Discover the positive
derivation of VRelax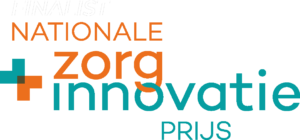 VRelax for the healthcare sector
VRelax focuses on hospitals, mental healthcare institutions, healthcare, LVB, elderly care and youth mental health care, where our products are used on a daily basis. We want to help, inspire and offer healthcare professionals a 'warm coat' to get started with VRelax preventively and effectively. In this way we can make people with stress, pain and burnout complaints healthier.
With a combination of smart apps that connect to care processes, VRelax offers more self-management in the event of stress. It influences the 'state of mind', brings resilience, positive emotions and increases mental resilience.
Stress complaints
Burn out
Depression
Agitation/unrest
Confusion
Aggression
Anxiety
Gloom
Pondering
Sleep problems
Ache
Can't go outside, bedridden
Distraction in case of physical discomfort
Strict isolation due to medical treatment
Quit smoking
Withdrawal drugs, alcohol
Tapering off medication
40% less stress within 10 minutes
Proven effective against stress, anxiety and burnout
Can be used immediately in case of mental overload
Proven increase in job satisfaction and productivity
Continuously developed with and for the end user
Validation with partners (body of knowledge)
Strengthen mental health; preventive and curative (Amplification)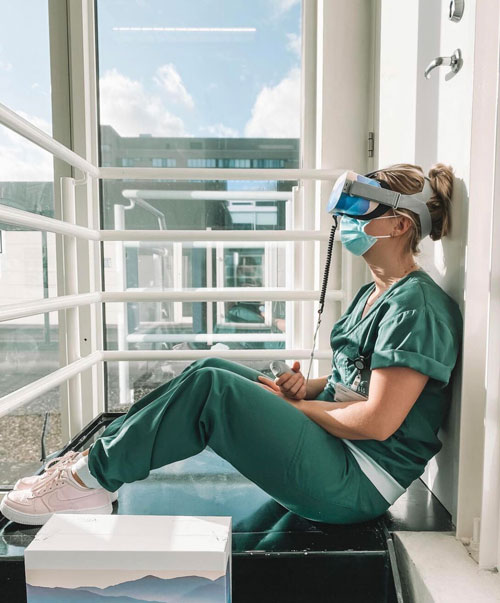 VRelax clearly meets a need and colleagues also like to use it during their breaks. Clients see VRelax as an added value for their treatment. We see not only that the tension decreases, but also the craving for the substance used.

Anja Granneman

Nurse Johannesbos Detox
15 minutes of relaxation in virtual nature is exactly what works for me. You transfer yourself to a relaxing world and come to rest. This way you can clear your head and recharge mentally.

Danielle Arends

IC Nurse Deventer HRH
No one can take those glasses away from me! It is a very nice relief in my treatment process. It sounds crazy, but those VR glasses will be your buddy. I have found a structure where I use the glasses every other day at set times. From the chair I now spend an hour in nature.

Mark Wallinga

Cancer patient Radboud UMC
Effective within 10 minutes
Relieve the burden on healthcare staff
Easy to use
More self-management for the patient
Efficient and cost-effective
Insights into the measurable effects
Made with care…
Download our white paper and
discover our 'body of knowledge'!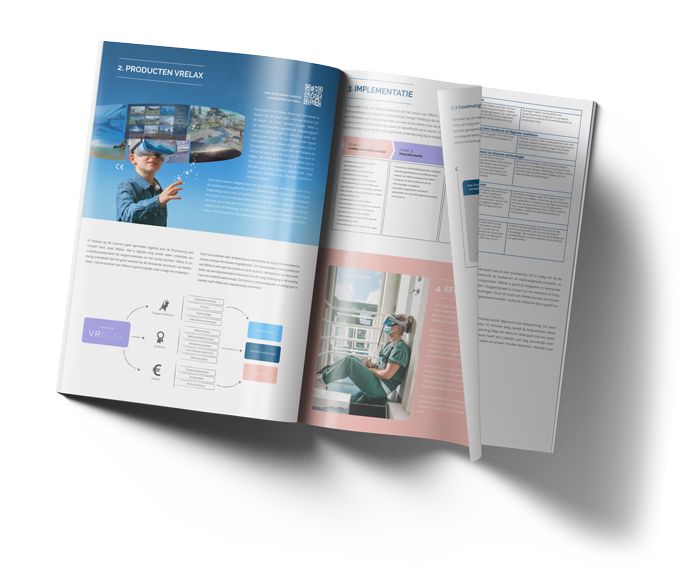 Wide adoption in the Netherlands
Thanks to our professional service and implementation, many customers make grateful use of VRelax. Our people have a background in healthcare and therefore understand well what it takes to embed an innovative product such as VRelax in existing processes, and to create support among users and practitioners. Try VRelax now for free! Fill out the form or visit our downloads page for more info.
How do I become a customer?
Are you interested in how VRelax fits into your organization? Watch the video to see how we can help you implement VRelax in the workplace. We find the best approach for you and we have a lot of experience with the implementation. So leave your details or contact us directly, we'll do the rest.