The new remedy
against stress and pain
VRelax is a scientifically validated Virtual Reality app, specially developed for people with mental and physical complaints. It is not only a relaxation tool against stress, burnout, anxiety and depression, but also a distraction tool for pain, physical discomfort and medical technical procedures.
Step into another world and experience the peace. With the app, people can choose which natural virtual environments they want to experience, with interactive exercises that provide extra relaxation. VRelax is the new remedy for stress and pain. Do you come from healthcare, business or are you personally interested? Choose the information below that suits you.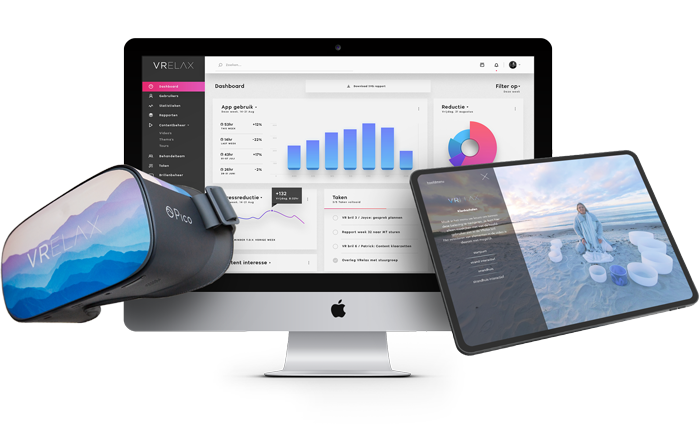 Relaxing for 15 minutes every day has been shown to be a very effective means of reducing stress. Both clients and employers indicate that they are enthusiastic about using the VRelax glasses! And it is also a very practical application.

Anja van der Pol

Life coach and trainer
Our workplace generates a lot of stimuli, external noise and things that demand a lot from our concentration. I have therefore purchased VRelax so that our employees with a high degree of stress can relax optimally during or after work.

Sven Caree

Team Chief of the North Holland Police Control Room
From the moment I put the glasses on I felt it. Peace. Sun. Rippling water. A beautiful beach in the distance and beyond….. nothing. I am not exaggerating when I say that after fifteen minutes I had the overwhelming feeling that I had been on vacation.

Arjan Tillema

IC Nurse UMCG
What does VRelax deliver?
VRelax keeps people mentally healthy by arousing positive emotions and suppressing negative emotions. Science shows that people experience 40% less stress within ten minutes and can cope with it for the rest of the day. Our practical solution relieves healthcare professionals and reduces the use of medicines by end users. This is how we make healthcare a little better every day!
How do I become a customer?
Are you interested in how VRelax fits into your organization? Watch the video to see how we help you implement VRelax in the workplace. We find the best case studies for you and we have a lot of experience with the implementation. So leave your details or contact us directly, we'll do the rest.